You've Tried The Rest,
Now You've Found The Best!
For years Xcellence Cooling and Heating has provided the Las Vegas area customers with superior service and value. From the beginning, Xcellence Cooling and Heating has been dedicated to offering solutions designed to fit not only your budget and schedule, but also your need for high quality workmanship. One thing that will never change is the Xcellence Cooling and Heating commitment to providing quality service. This has resulted in a loyal customer base that has kept coming back over the years. And, it's the Xcellence Cooling and Heating staff that keeps making the difference. Our dedication to providing friendly, dependable and a family atmosphere this has been the cornerstone to our success.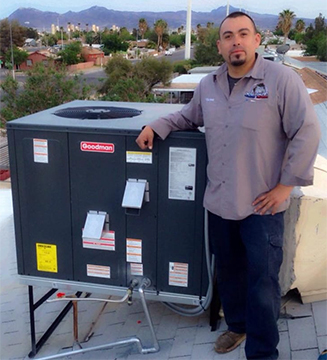 We ensure that you'll be well taken care of:
Our staff looks forward to serving you and assisting you with your needs. We'll go the extra mile.
Our customers can count on personalized dependable service.
Our staff takes pride in their work and wants to enhance your experience.
Each of our customers are given dignity and respect and a high regard for their differing points of view.
Our priority number #1 is customer satisfaction and following through with our commitments.
The Xcellence Cooling and Heating staff is made up of experts that are highly trained and thoroughly enjoy working with customers. If a problem comes up that proves to be more difficult than normal, they use their team approach collaboratively to get the help needed to fix it. We can manage any problem, big or small, regardless of the difficulty of your requirements.
The services that Xcellence Cooling and Heating provides are completed efficiently and on schedule with results that will exceed your expectations.
Call Xcellence Cooling and Heating for a full professional diognostics of your systems and to have our
customer service professionals answer any questions that you may have. Our careful approach to customer relations guarantees that we can provide the services you need, and in a time when every dollar
saved matters.